Busy all summer long…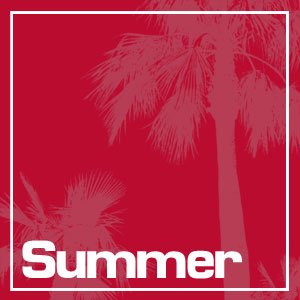 The summer of 2017 has been an exciting time here at SuperDroid Robots. From beach trips, to cook-outs to our summer sale; we've been busy for sure.
To celebrate the Fourth of July, we held our summer sale which spread like wildfire. Many of our customers took the opportunity to save up to 15% on robot kits, motor controllers, gear motors, etc. The response was amazing and we really had to work hard to fulfill all the orders.
A short time later, we completed our robot giveaway contest. If you don't know what we're talking about, maybe it's time to fill you in.
Our 2017 Robot Contest:
We have always wondered one thing; "What do people really do with our robots, kits and parts?"
So earlier this summer, we decided to find out!
We engaged our audience on social media via Facebook, Twitter, and Instagram. To enter the contest, our followers would post a photo or video of the robot project they were working on, along with the hashtag #SDRobotsContest.
We had many amazing entries, but the winner was selected randomly to be fair to all who entered.
Our winner was Jason from Candler, NC. Jason is a robot enthusiast, along with his kids Sadie and Zane (ie: The Wonder Twins).

They submitted multiple entries which were all incredible, such as a radio-controlled lawn mower which we are 98.7% sure was the kids' idea. ("Remote control chores? Yes please!")
From what we can tell, their "Mowbot" uses a virtual reality headset to help control it, which is radical!!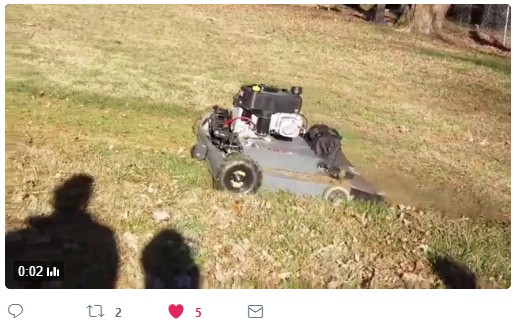 Jason was excited to learn that he was the contest winner, and even promised not to do any evil with the robot. Although that wasn't specifically in the contest rules, we thought it was a nice touch. Well played, Jason!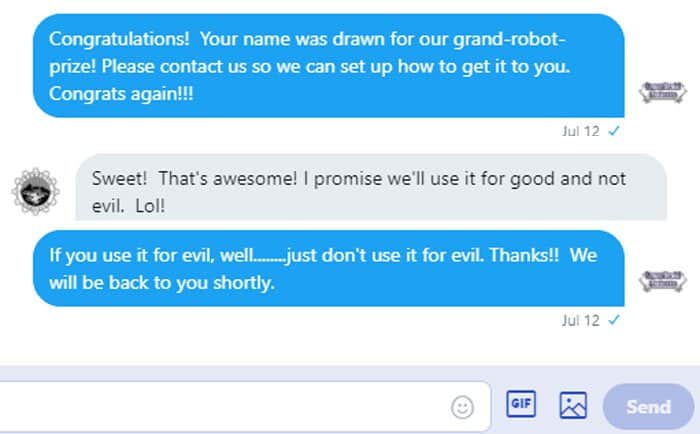 Our Robot Contest Video:
We also thought it would be a cool idea to document the process of making a robot here at SuperDroid Robots. So, we set our videographer loose in every area of the shop, and went to work building this robot .
He came up with an interesting way to follow the process of how we build every robot. From receiving the raw material, to fabrication and welding, to mechanical and electrical work, programming, and testing; we captured every step. We even filmed the robot getting packed up and ready to ship!
We don't give away robots every day, so it was nice to have some fun with this contest, and to be able to meet some cool new people like Jason and his Wonder Twins.
Make sure to check out the video so you can get an inside look at what we do every day, and check back frequently because you never know when the next winner might be you!