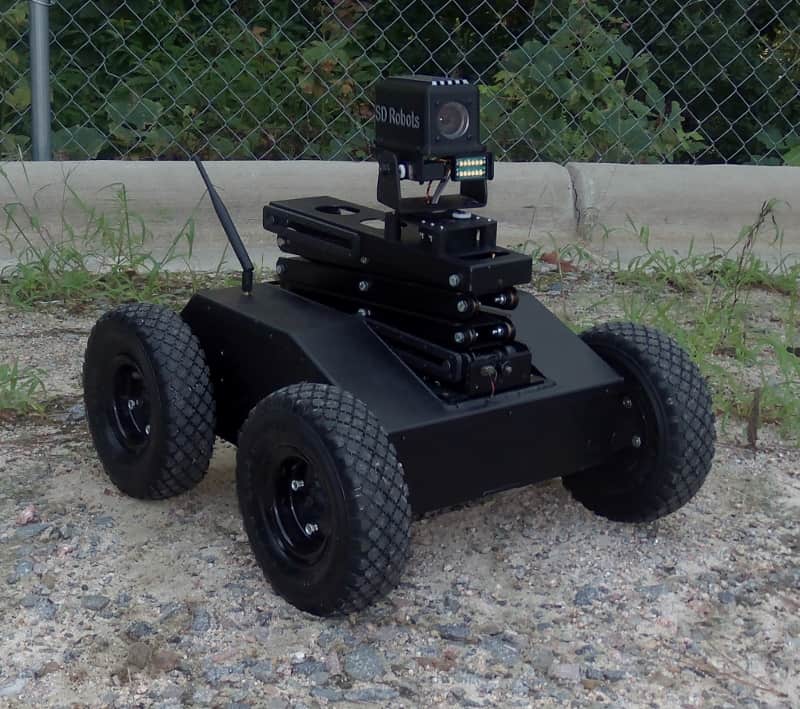 Meet our new 4WD Tactical Scissor Lift Robot. This is a great surveillance robot that allows you to see over countertops, on top of beds, through windows, etc that most low profile robots just cannot achieve. The 4WD platform is equipped with 10 inch pneumatic tires that allows it to navigate over most terrains. The PTZ camera has a 27x optical zoom so all details of any situation can be observed. The tactical remote allows the opperateor to control functions of the robot and see everything with the PTZ camera.
Available options include: High Power LED Lights, PA System, and your choice of digital, analog or COFDM radios.
The robot stands at 21″ tall with the scissor lift collapsed and 54.5″ tall when extended.
This robot was developed for Law Enforcement and Military purposes but can be purchased and used by anyone. The robot can also be customized with HAZMAT sensors, additional cameras, or sensors. Please contact us if you need the robot customized.
Product Listing: 4WD Enclosed Tactical Robot with Scissor Lift and PTZ camera