Every technician that has ever run cables knows the "joy" of drop ceilings firsthand. Just to see what's above a drop ceiling (also known as a suspended ceiling or false ceiling) you have to climb a ladder, pop the tile up, and look around with a flashlight. You might take a few pictures with a smartphone while being careful not to fall off the ladder as you spin around looking in different directions. Then you repeat this process over and over. It's an unavoidable step to estimate and execute cabling projects in commercial and industrial buildings.
Checking out a drop ceiling feels like a game of whack-a-mole and you're the mole.
Challenges Looking Above Suspended Ceiling
Time-Consuming Process: It takes time to move the ladder, crawl up, look around, climb down, move the ladder, and repeat that process again and again.
Limited Access: Clear floor space dictates where you can access a drop ceiling. Desks, equipment, and furniture make it hard to use a ladder safely.
Minimal Visibility: Even though you move your ladder from place to place, you can only see so much from each location and you do not have any visibility in corners and behind ductwork and equipment.
Safety Concerns: Climbing up and down a ladder repeatedly increases the potential of a fall. Also, people can overstretch their bodies trying to view something just out of sight.
Poor Documentation: While taking pictures helps with documentation, those pictures are almost useless when you get back to your desk because they lack orientation and thoroughness.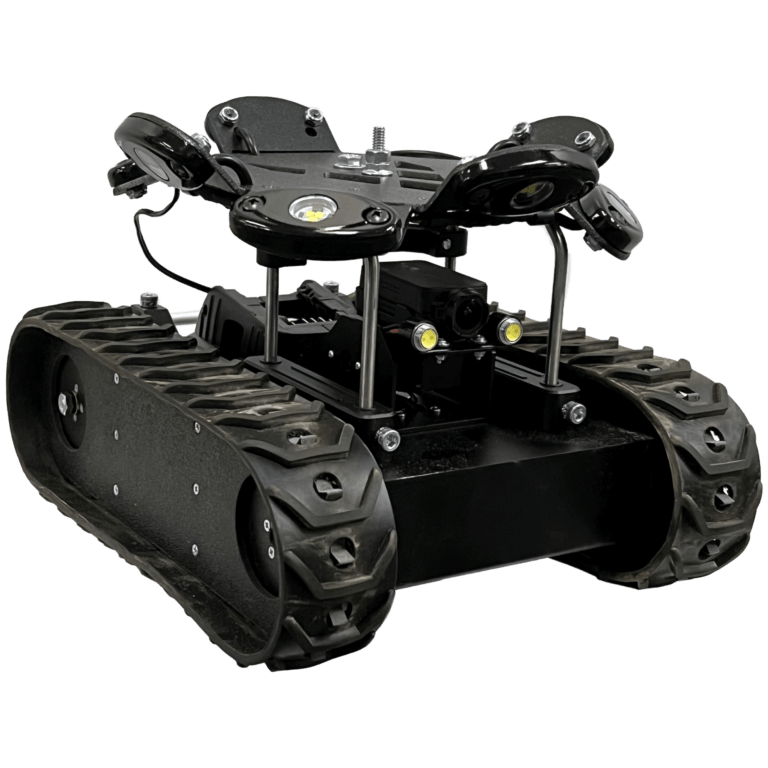 The New Way to Inspect Drop Ceilings
Because of all the challenges suspended ceilings create, technicians have reached out to us to create a viable, affordable solution. We adapted our GPK-32 tracked inspection robot, adding a 360° camera and a light ring to illuminate the near pitch black space.
Check out the results from our first test where took this 360° video above the drop ceiling directly above our CEO's head.
This 360° view of the plenum* lets you see what ductwork, pipe, electrical wires, and other cables are present so you can make a plan to run your structural cable and CCTV wires.
You can also use this robot to run those cables! Just attach the cables to the grab bar at the rear of the robot.
*The space between the top of the suspended ceiling and the bottom of the floor.
Benefits of Using a Robot to Inspect Drop Ceilings
Accessibility & Visibility: since you only need one or two access points to inspect a drop ceiling, you can see more area of the space, including around equipment and corners.
Speed: Using a robot is much faster compared to moving a ladder around.
Safer: Using a robot reduces the frequency of climbing up and down a ladder and not needing to overstretch to see something just out of sight drastically reduces the potential for injury.
Better Documentation: The robot's 360° camera gives you drastically more insight into the space, making it easier to create a project plan and share that information with team members.
ROI of Drop Ceiling Robots
Using a robot to inspect what's above a drop ceiling is faster and safer. You'll also have better documentation to plan your projects. Also, running cables will be even easier!
Check out our drop ceiling robot.