A new addition to our online store
Here at SuperDroid Robots, we have perfected the art of creating durable, reliable mobile robot platforms. We've added a new robot to our lineup filled with the same quality engineering you've come to expect from SuperDroid Robots.
This All Terrain Robot is designed and fabricated in North Carolina, USA and fully supported by SuperDroid Robots, an industry leader in robotics. The chassis is a rigid gusseted aluminum frame that is precisely fabricated using state of the art CNC equipment. The wheels are mounted on solid steel axles which are supported by two sealed ball bearings. Each axle/wheel is driven by a planetary gear motor through a chain and sprocket drive, delivering smooth reliable power. The robot uses differential steering (movement is based on two separately driven wheels placed on either side of the robot body. It can thus change its direction by varying the relative rate of rotation of its wheels).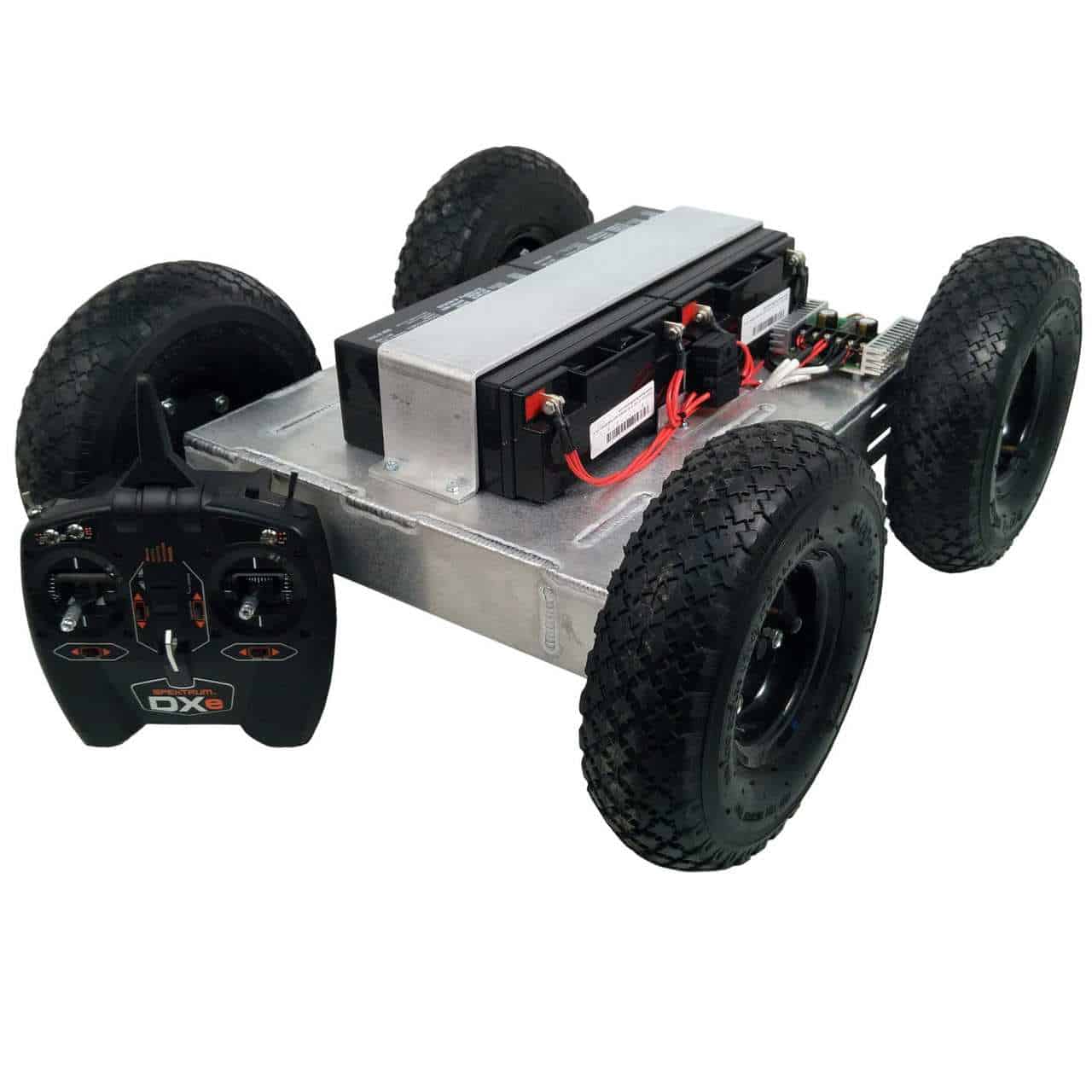 This all terrain mobile robot platform is prebuilt, programmed, and ready to go! Since there's no lead-time involved, we can pack it up for you and have it on its way in a hurry.
Configuration:
Includes Chassis with Sealed Ball Bearings (2 per axle), chain and sprockets, etc., hardware, electronics, etc.
Four heavy duty IG52-04 24VDC 285 RPM Gear Motor (one per axle/wheel) connected to axles by chain and sprockets.
Each axle is supported by two sealed ball bearing and is chain drive from the motor with a 15:21 reduction. Other reductions are available upon request.
Variable speed and direction differental drive/steering. The standard motors drive this robot up to 500 feet per minute.
24V SLA batteries with 18Ahrs of capacity providing 2-5 hours of operation depending on use.
Includes a battery charger.
This robot comes complete with a motor controller.
This robot includes a Spektrum DX5 remote control to wirelessly drive the robot.
The total weight of this configuration is ~59 lbs.
Handles 50lbs of additional payload in most terrains.
Fully Assembled. Standard configuration is the left two motors are wired together as are the right two, which allows them to run together.
Contact us if you need this robot further customized to meet your needs.
As you can tell, this isn't a cheap mass-manufactured toy. This mobile robot platform is the real deal and ready to go to work on any project you can throw at it.
Make sure to check out all of our robots, parts and accessories in our online store.