SGT-32 Home Inspection Robot Testimonial
William Butner of North Carolina owns a home built around 1870. Mr. Butner hired a contractor to assess the home for damage. There was no access to the structural beams without tearing up the floor. A small section was removed and revealed termite damage. The contractor told Mr. Butner that termite damage was so severe that the entire subfloor of the home would need to be removed and replaced. Since he could not get to the areas, he assumed the rest of the beams were damaged as well. The contractor's estimate was a staggering $85,000!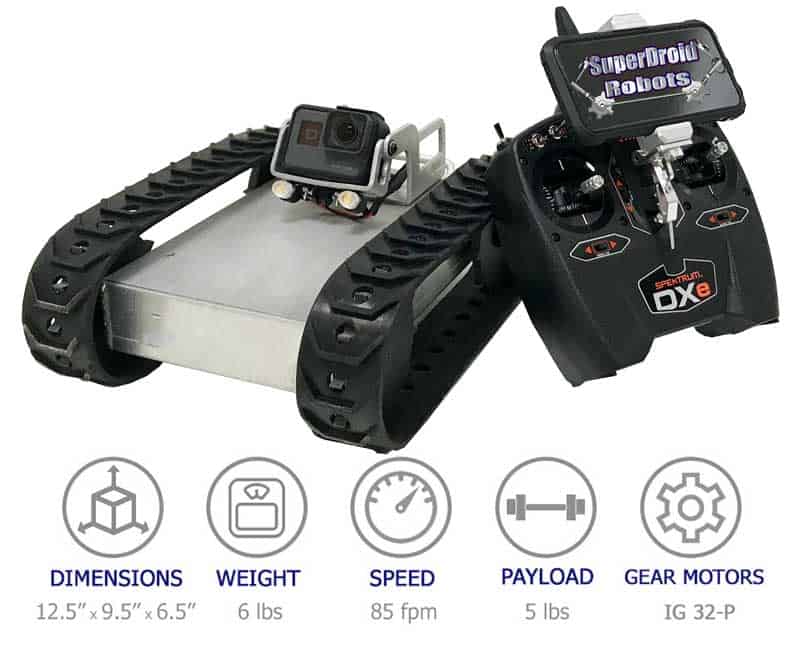 Mr. Butner decided to get a second opinion. SuperDroid Robots SGT-32 Inspection Robot was deployed into the small area of the subfloor to get a better look. The available entrance was 12 inches high by 20 inches wide. The video footage from the SGT-32 Robot was clearer than the plumber's scope could provide. After reviewing the footage from the SGT-32 Inspection Robot the inspector determined there was no further termite damage to the home!
Mr. Butner commented that the wireless range of the GoPro was limited and he had to reposition himself a couple times to get the video feed. However, he also noted that even when the video feed was choppy or frozen, the GoPro continued to record in Full HD and he was able to review the video feed after the inspection and see all the details in 4K HD video. As a result, Mr. Butner determined that there was no further terminate damage. He also said the lights on the SGT-32 were very useful for looking down the joists in complete darkness. As an added benefit, Mr. Butner used the lights to help him see where the robot was and what the camera was pointed at even when he had no video feed on his phone (but the video was still being recorded on the SD card). SuperDroid Robots also sells tethered inspection systems and higher-end wireless solutions, but for the money, the SGT-32 is a very good solution! See our complete line of SuperDroid Robots Inspection Robots.
SGT-32 Video Footage
Mr. Butner sent SuperDroid Robots the following video footage captured from the SGT-32 Robot of his home inspection:
SuperDroid Robots
SGT-32 Inspection Robot
is a complete wireless robotic inspection solution. The robot comes equipped with a GoPro Hero that provides crystal clear video footage. Ultra-bright LED lights illuminate dark areas and adds clarity during the video recording process.
For more information on the SGT-32 Robot read the dedicated blog article or
shop online now.