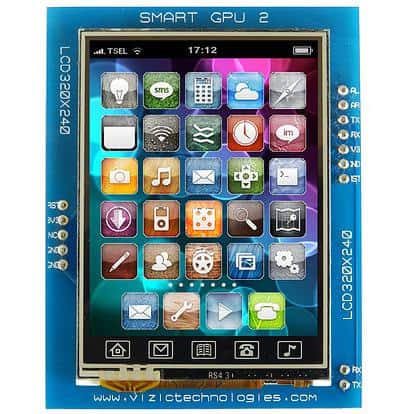 SuperDroid robots is an official distributer of Vizic Technologies' SmartGPU2.
The SmartGPU 2 is a powerful easy to use, intellectual property, graphics, audio, touchscreen and full datalogger processor embedded in a state-of-the-art ARM Cortex-M3 chip; this is mounted on a board with a touchscreen color LCD. It's aimed to help developers to create advanced Graphical User Interfaces (GUIs) in a very easy way, the Smart GPU 2 processor doesn't need any configuration or programming on itself, it's a slave device that only receives orders, reducing and facilitating dramatically the code size, complexity and processing load in the master host processor. It features high end FAT32 format data management functions (Data Logger) to create even more advanced applications in just minutes, not days.
The Smart GPU 2 offers a simple yet effective serial interface UART to any host microcontroller that can communicate via a serial port(Arduino, Raspberry PI, mbed, PSOC4, PIC, Atmel, Freescale, STM, FPGA, PCs(RS232), even 8051 and low end 8 bit microcontrollers. All processor functions are received using simple commands via the serial interface. Smart GPU 2 processor can bring graphics, audio, touch, etc to any application or project without the need of having experience in handling LCDs and graphics algorithms.
SmartGPU2 has all the functions of the best seller "SmartGPU1", but its now 20-30 times more faster + Audio capable(CD quality) + Video Playback(60fps) + LFN(long file names) + JPG images support(decompression) + 16Kb embedded EEPROM + integrated RTC(real time clock) + new geometry functions + TONS of new features!!!
We can guarantee that this is the most advanced yet easy to use Graphics Processor you'll find on the market… …You'll love it!
Documentation:
SmartGPU2 Libraries:
SmartGPU2 Source Code/Examples:
Windows PC Interface (for use with USB-UART SX):