Facility managers and engineers across different industries and job sites are finding new ways to use technology to help manage their facilities. Manufacturing facilities, utility plants, and commercial buildings are adopting new technology in their day-to-day operations. Whether that is asset management, virtual mapping, or facility inspections, the focus is now on detecting minor problems before they become major issues.
In the past few years, facility managers began using reality capture software to document their facilities and create virtual walkthroughs. These walkthroughs let them plan projects internally as well as share vital information with contractors, all without ever stepping foot inside the facility. Some reality capture programs even let users create timelines of their recorded data, allowing them to compare progress and changes as time goes on. Others allow you to compare live environments against 3D designs and blueprints.
The Challenge with Reality Capture in Facilities
Oddly enough, the biggest challenge in adopting reality capture is in the collection process itself.
Time-Consuming Process: Reality capture requires walking through your entire facility, stopping every few feet to record an image with a 360° camera or laser scanner. Then there's the time to set up and breakdown the tripod/monopod, plus the time to hide from the camera.
Cumbersome Data Collection: Usually, this time-consuming walk-through is done with a tripod, which is clunky to carry around and does not fit everywhere, especially for facilities with specialized equipment or machinery. While a monopod can fit in more spaces, it still has to be set up and broken down for each photo.
Infrequent Collection: Because recording all these data-points is a boring and repetitive task, it is often a low priority. Other work takes priority and scans are less frequent.
Revolutionizing Reality Capture with Robots
Robots allow you to scan facilities more frequently and efficiently, providing crucial data and essential Return on Investment (ROI).
Autonomous Reality Capture Robots
Automatically Done: An autonomous robot can navigate a facility by itself, without human supervision. Our robots allow you to add waypoints to make sure you get the data you need.
Work the Third Shift: Get the best data in the least disruptive way. Schedule an autonomous reality capture robot to run after hours or during slow work periods. You can limit employee concerns and lower the chance of human error.
Passive Data Collection: Most autonomous robots use obstacle detection technology so you don't have to worry about them bumping into people or machinery.
Remote Controlled Reality Capture Robots
Faster Collection: Using a remote control robot cuts your data collection time by more than half.
Disappear from Photos: A complaint many people have with reality capture is appearing in the photos or having to set a timer to hide. With a robot, you can safely operate it and stay out of sight around a corner by using the video screen on the robot.
Cool & Fun: The entertainment value of driving a robot around your workplace can offset the monotony of data capture. By making the task more fun, you increase the chance that it gets done!
ROI of Reality Capture Robots
Your Return on Investment (ROI) depends on the capabilities of your robot. A remote-controlled robot cuts the capture time in half for the operator. Our clients have found they capture data more frequently because their team wants to do the task and it doesn't take as long when using the robot.
You do not need an operator with autonomous reality capture robots, so that saves multiple hours with each inspection. You can increase the frequency of your data collection from annually to monthly or even daily, providing you with more data and ROI.
Integrating with Reality Capture Software
Our robots make integration easy by using standard 360° cameras and scanners to capture data. By doing so, users can use most professional reality capture software to create their virtual maps.
Currently, our Groundhog (autonomous reality capture robot) uses a specific 360° camera because of our custom integration. This integration allows you to designate waypoints for the robot to record photos at. The robot can automatically send these images to a compatible reality capture program. We hope to expand this feature to additional cameras as time goes on.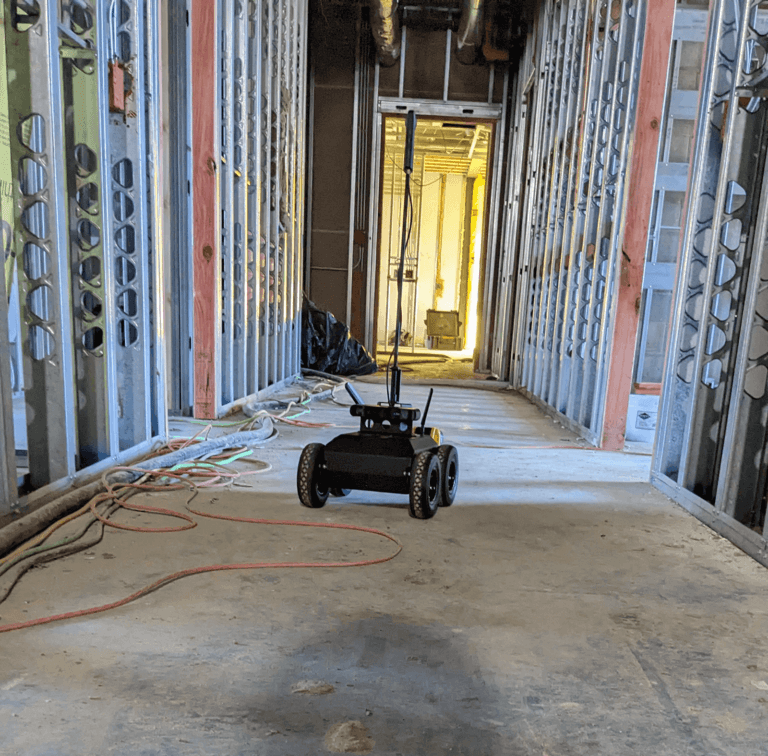 Reality Capture Robots Becoming More Affordable
Reality capture robots are still fairly new technology, but that doesn't mean affordable options don't exist. Until recently, the only options on the market cost upwards of $100,000, making it difficult to scale or even show an ROI.
Our manufacturing and utility clients requested a more affordable solution, so we created two options:
An affordable autonomous reality capture robot we call the Groundhog that costs less than $20,000.
A new configuration for our compact inspection robot (the GPK-32 4WD), creating a remote control reality capture robot that costs less than $5,000.
We even developed a custom light ring for drop ceiling inspections, but that's a robot for another blog post.
What's Next for Reality Capture Robots
As robotics and reality capture continue to grow together, we expect to see more even more developments. Seamless solutions for users, more accurate data from scanning equipment, and even lower price points are just some of the potential changes we can look forward to in the future.