How can a snow plow robot help you this winter?
One of the worst parts about this time of year is having to plow the snow after a winter storm. If you live above the Mason-Dixon line, you can almost be guaranteed to have to get out the shovel and clear your driveway, sidewalk or parking lot.
What if there was a way to remove the snow from your driveway without ever having to pick up a shovel? What if instead you could use a remote controlled snow plow robot?
North Carolina's SuperDroid Robots has just what you are looking for!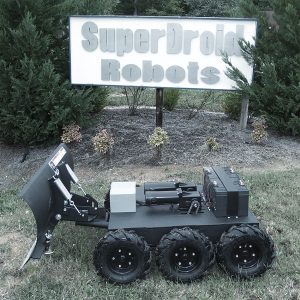 This is a pre-built version of our 6WD RC Snow Plow and it packs a powerful punch! The chassis is a rigid gusseted 3/16″ thick aluminum frame that was redesigned to mount the plow further back on the robot. This allows for better plow positioning when plowing at an angle and makes the snow plow robot more durable during the worst winter storms.
The plow is raised and lowered using an electric linear actuator. It is also removable so you can use the robot for other purposes such as hauling/towing material and equipment making it not only powerful, but versatile as well.
The wheels are mounted on 0.75″ OD solid steel axles, each of which are supported by two heavy duty pillow block bearings. The three wheels on either side are chain coupled, giving the robot 6WD power and torque.
Our remote controlled snow plow robot uses differential steering; i.e., movement is based on two separately driven wheels placed on either side of the robot body. Therefore it can change its direction by varying the relative rate of rotation of its wheels and "pivot turn" in place. See our ATR page for more details about our All Terrain Robots.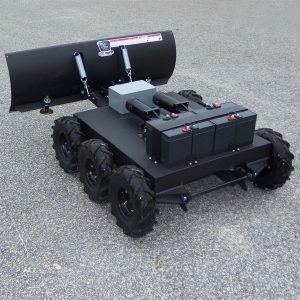 Pre-Built Configuration:
Includes the chassis, bearings, chain and sprockets, hardware, and wiring kits.
Two powerful 135 RPM Wheel Chair Motors (one per axle/wheel) connected to the axles by #40 chain and sprockets.
The axles of the three wheels on each side are coupled with #35 chain and sprockets giving the robot 6WD.
13 inch tiller wheels with solid steel axles and pillow block bearings.
Qty. 4 12V 35Ah batteries providing 2-4 hours of operation depending on use.
Includes battery charger.
This robot includes a DX6i Spektrum remote control to wirelessly drive the robot.
Spektrum AR9020 fail safe receiver.
400 lb. linear actuator with pulley system to raise and lower plow.
Syren 10A Motor Controller for linear actuator.
Other Electronics Components:
This robot comes fully assembled, tested, and ready to run.
Specifications of this configuration:

Drive Method: Chain drive with a 10:18 reduction (gear motor to drive wheels).
Axle Mount: Dual Bearing (DB) – the axles are mounted on two heavy duty pillow block bearings.
Speed: 2.9 mph (with 135 RPM motors, its 10:18 reduction, and 13″ wheels). Different gear reductions can be requested to vary speed and power. Use our Robot Speed Calculator for calculating the speed with different gear reductions.
Dimensions (LxWxH): 55 x 38 x 19 inches (with plow down and straight ahead).
Weight: Approximately 200lbs.
Capacity: Payload of approximately 150lbs.
Video:
Delivery:
This item is assembled and ready to run. Please allow 3-5 days for crating and preparing for shipping.
This item has to ship freight due to the size and weight. We will contact you after checkout for final shipping costs and arrangements.
---
As you can see, this is not a toy. Our remote controlled snow plow robot is a serious piece of equipment that is not only powerful enough to clear snow all winter, but versatile enough to do many other things, and durable enough to last for years.
So don't work yourself to death all winter with the back-breaking chore of clearing the snow from the sidewalks. Let our remote controlled snow plow robot do the job instead while you truly enjoy a happy holiday season.
Don't miss out! Click here to check out our snow plow robot, or contact us to find out more!