SDR is taking its tactical robots back on the road
**** Due to inclement weather, our trip north has been pushed back to Feb 7-10, weather permitting. Find out how to schedule a demo below. ****
2016 was a really big year for us here at SuperDroid Robots. We have made road trips all across the south over the last few months and now SDR is heading north!
We have demos scheduled in Erie County, New York as well as Connecticut, and we'd love to make your organization part of the trip. Our tactical robots are the most advanced and durable around, and can be completely customized to your needs.
SDR is heading north to show off the features of our tactical and inspection robots, and to let you get the chance to try them out hands on. Our robots are more versatile than any others on the market.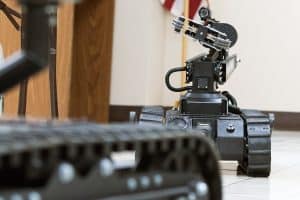 What can our tactical robots do?
Remote surveillance
Bomb inspection
Building inspection post-earthquake or storm
Search and rescue
Chemical detection
etc…..
What our robots can't do is schedule a demo for you. We think once you get the chance to see how versatile our tactical and inspection robots are, you will definitely want one for your team. Whether you are involved with law enforcement or fire and rescue, a tactical robot can assist in so many ways to keep your team out of harm's way.
Where are we going to be?
We can make ourselves available almost anywhere in the northeast or eastern edge of the mid-west, but we have a few locations in mind already.
Buffalo, NY
Scranton, PA
Hartford, CT
Boston, MA
Albany, NY
Pittsburgh, PA
Philadelphia, PA
Cleveland, OH
Columbus, OH
Cincinnati, OH
Huntington, WV
Charleston, WV
How to schedule a demo
You have a couple of different options when it comes to scheduling a demo for your agency or organization. You can always give us a call at 919.557.9162 and anyone at our shop in North Carolina would be happy to assist in setting up a demo.
You can also email us at [email protected] and we will respond ASAP to get you scheduled.
You can also visit our contact page and use the form to start the process rolling.
Everyone gets excited when the SDR Mobile Support Vehicle rolls into town. Especially when it's loaded with robots that can help your organization stay on the cutting edge of technology.
Schedule YOUR demo today!