What is the SESummit?
The Southeast Regional Federal Construction, Infrastructure, and Environment Summit (nicknamed "The Summit" or SESummit) is an in-person conference that brings together over 600 members of the military, federal agencies, contractors, suppliers, and other groups. Representatives from the Corps of Engineers, Army, Air Force, Navy and Marine Corps, US Coast Guard, and more were in attendance. Hosted by the North Carolina Military Business Center, as well as Senators Burr and Tillis, this summit is a great opportunity to discuss the upcoming improvements and infrastructure development in the region.
SuperDroid Robots Goes to Wilmington
The day before the summit, a few members of our team loaded up the SuperDroid van and headed for Wilmington, a few hours east of our facility. Along for the ride were a few of our robots, including the watertight MLT-42-W and our trusty GPK-32. We also brought the Bulldog, our lightweight tactical support robot and a little custom recon robot.
After getting our booth arranged and robots secured, our team attended a social event for attendees in downtown Wilmington. It was a great way to connect with other representatives and talk about the applications of our robots in their industries. People like to talk about robots, and more than a handful stopped by the next day to get the chance to test drive our GPK-32.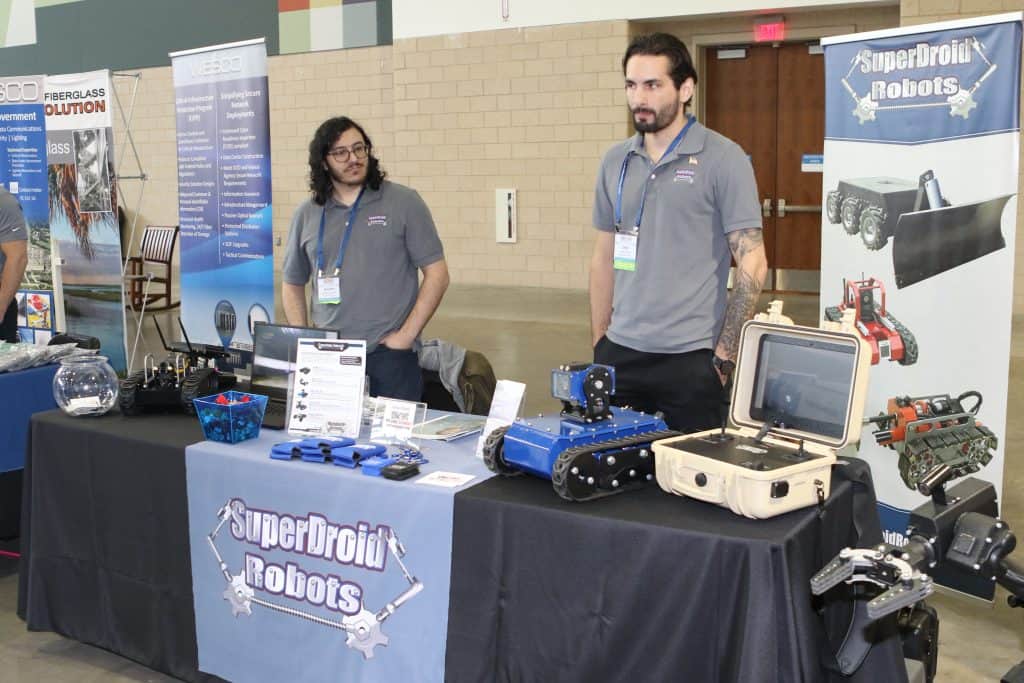 With infrastructure being the focus of the summit, there was a lot of interest in tools that could help inspect existing structures, systems, pipelines, and more. With SuperDroid Robots wide range of inspection robots and the ability to build custom robotic systems, we drew a lot of interest from multiple industries. Companies specializing in environmental site assessment, environmental compliance, and consulting were interested in deploying robots with sensors and equipment in potentially hazardous areas. Infrastructure development groups want tethered robots that could get into areas their operators can't reach. Government agencies are looking for platforms they can customize for their own projects. The great thing about SuperDroid Robots is that we can meet all those needs and more!
Overall, the summit was a great opportunity for our company to network and connect. We're already looking forward to the next summit!
Want to learn more about the robots we brought with us? Visit the link below for our entire catalog of inspection robots!
https://www.superdroidrobots.com/robots/professional-inspection-robots