We recently listed three arms for sale on the website as stand-alone items. Two of them are heavy-duty arms that we use with our tactical robots. One of these is our HD2 Multi-Axis Arm (TP-702-000), a large 5-axis arm that we use with our HD2-S Mastiff. The other is our LT2 Multi-Axis Arm (TP-701-000), a smaller 4-axis arm that we use on our LT2-F Bulldog.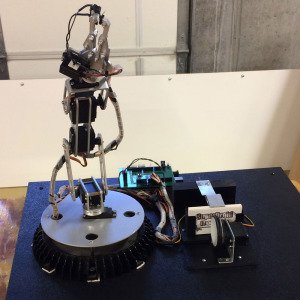 The third arm we listed is the Dagu 6DOF Arm with Controller (TP-700-006), a low-cost, light-duty arm that is the subject of this week's Tech Thursday. We used this arm to build a business card dispenser to take to trade shows. It grabs a card from a stack and moves into a position for someone to take it. Once the person takes the card it moves back to the stack, grabs another card, and returns to its distributing position. Here's how we did it…
We used an Arduino to control the arm and then we made our own business card dispenser using a servo, a servo horn, a couple of o-rings around the servo horn to grip the cards, and a spring mechanism to push the cards into the servo horn. We also mounted a limit switch to the gripper that lets the Arduino know whether or not the gripper is holding a card. Then after playing around with the positioning of the arm we had it up and running. Check out a video of the dispenser in action below.


#techthursday