If you're looking for the B2-series Super Battle Droids from the Star Wars Clone Wars series, you're unfortunately in the wrong place. You can learn more about those "Super Droids" at Wookiepedia, the Star Wars Fandom wiki.
However, if you're looking for actual robots, in particular, inspection, tactical, autonomous, or even custom robots, you're in the perfect place. We've even built a proof of concept of a humanoid telepresence robot.
Here at SuperDroid Robots, we've helped companies make dangerous, dull, & dirty tasks safer, more effective, and cleaner (for humans), which continues to save lives, reduce injuries, and improve employee retention for over 20 years. 
You may be wondering how a little company (compared to the Star Wars galaxy) can use the name "SuperDroid", especially if we were founded in 2001.
First, the B2 Super Battle Droid originally appeared in Star Wars: Episode II Attack of the Clones, released May 16, 2002. [source: Wookiepedia]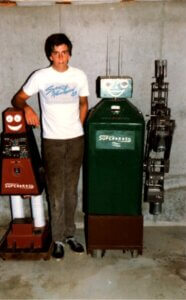 Secondly, "SuperDroid" was the name our founder, Charlie Payne, called his robot creations way back in the 1970s before the 1978 release of Star Wars: A New Hope.
After being the runner-up and Super Heavyweight finalist on the second season of BattleBots in 2000, Charlie used the proceeds from his team's winnings and royalties to start a company, which he aptly named "SuperDroid Robots" after his original robot creation decades before. 
We do not make any Star Wars-related robots or use any of the intellectual property owned by Lucas Films. Instead, we design, engineer, and build our own robots for companies, governments, schools, and organizations across the globe. Check out our SuperDroid Robots.