Take your surveillance to a whole new level
The world is becoming a more and more dangerous place every day.  Whether it is a simple inspection job, or a much more treacherous situation (hostages, bomb search, etc.), your organization could definitely benefit by sending in a robot as a first measure.
Here at SuperDroid Robots, we have mastered the art of designing and building surveillance robots that simply get the job done.  One of our most versatile tactical/surveillance robots is this 4WD Tactical Robot.
This is a prebuilt custom 4WD enclosed wheeled robot. It is remote controlled via a tablet over wifi. It features a high quality camera with 360 degrees of pan, -10, +50 degrees of tilt, and a 27x optical zoom. It also has a front bumper to avoid flipping the robot if driven into a wall.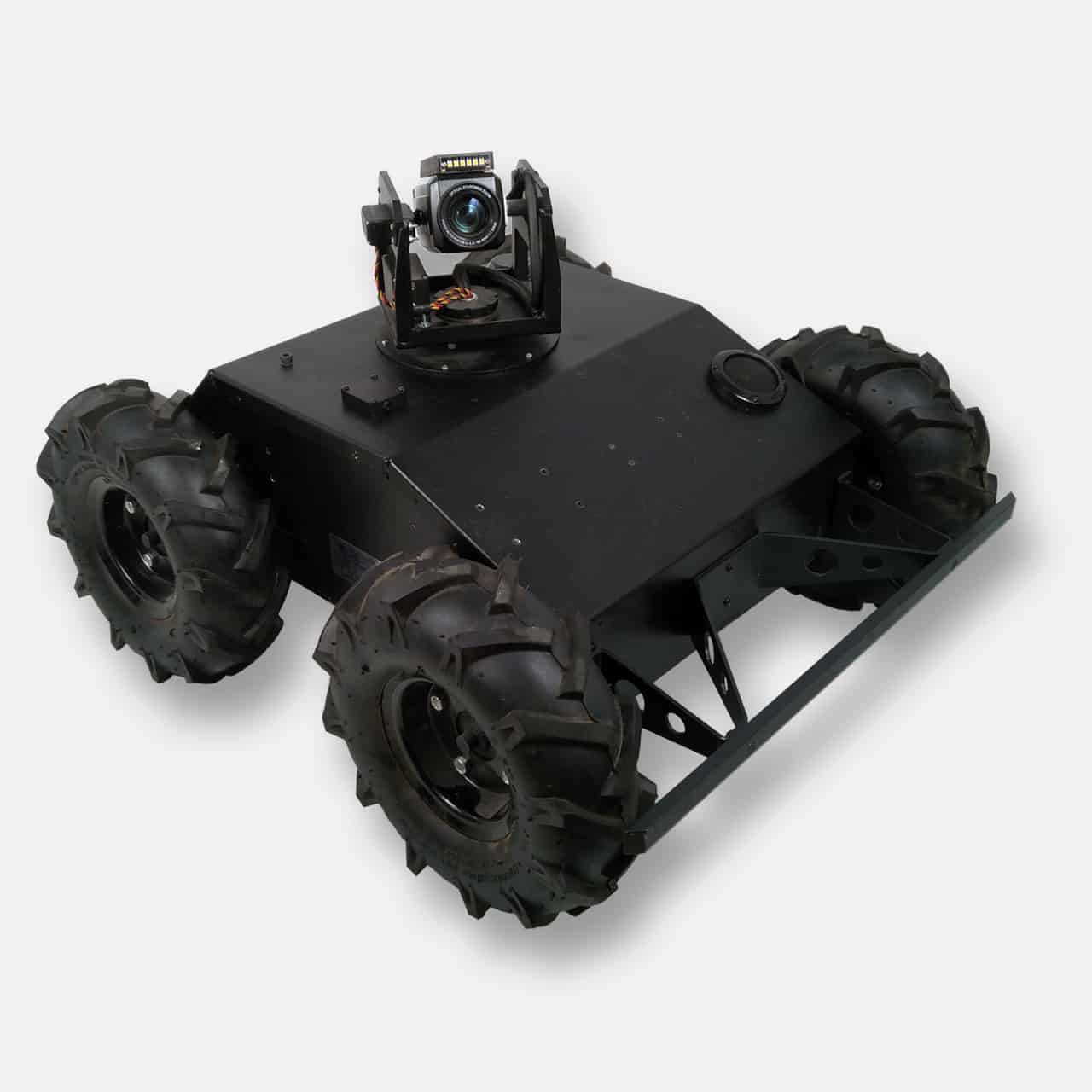 This custom WiFi controlled IG42 Enclosed ATR includes the robot, 7″ tablet, tablet program, WiFi Bridge, Ethernet converter, Pan Tilt Zoom (PTZ) camera, and Video Server. The drive, pan, tilt, zoom, and lights on/off are all controlled by the tablet which features audio to and from the robot. If you set up your router with port forwarding, you can control and monitor your robot from anywhere that has internet access with your program.
The robot itself is extremely rugged and well-built. The wheels are axle mounted and supported using sealed ball bearings. The motors allow this robot to climb hills and curbs. The chassis is 1/8″ thick aluminum custom designed to fit our IG42 motors and all of the electronics. The aluminum is all cut using our CNC Plasma table for a precision fit and then hand welded.
As configured it has a ground clearance of about 4″. The width with the wheels (wheel edge to wheel edge) is about 22″ and the length is about 26″. The robot is equipped with 10″ pneumatic traction lug wheels. The robot weighs about 47 lbs and can handle 25lbs of additional payload in most terrains. The robot can travel up to 320 feet per minute. It includes the Wi-Fi Custom Control Interface Package. Powered by (2) 12V 10Ahr LIFE PO4 batteries (with charger provided) and (1) High Power Polymer Li-Ion Module 11.1V 5Ah battery providing 1-4.5 hrs of use on a single charge depending on use. It also features an 11.1 volt Lithium battery for the control system of the robot to keep drive power and control power separate.
It is currently fully assembled, tested, and ready to run!!
In today's dangerous world, it's a much better idea to send in a tactical robot when the situation gets tense.  Check out this robot, and many others at www.superdroidrobots.com.