Vectoring movement is achieved through a sum of forces generated by each wheel. SuperDroid Robots offers many vectoring robots on its online store. We also have a support page for vectoring robots which details the theory of operation.
Two main types of wheels are used. Figure 1: Omni wheels have smaller rollers on the edges that move completely perpendicular to the wheel itself. With this type of wheel they must be mounted perpendicular to the center of the robot. Figure 2: Mecanum wheels are unique in that the small rollers are at a 45 degree angle. This allows them to be mounted like normal wheels but provide the name style of movement as Omni wheels.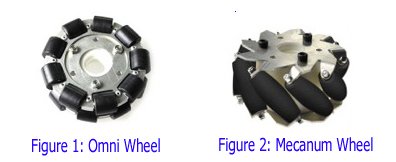 This is a custom chassis we built to move a piano player around. The robot is build like a piano bench with a scissor lift on it. The omni wheels allow the robot to vector around and position the piano player exactly in position so it can play the piano.
We have build many mecanum robots. This is a video of a standard IG52 mecanum robot.

Example Code
To make getting started with our vectoring robots easier, we've provided some example code for both our tri-wheel programmable robots (TE-251-003) and our quad-wheel mecanum robots (TP-252-004 and TP-152-004).
#TechThursday #Mecanum #Omniwheel